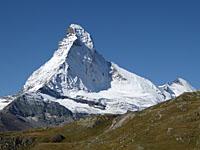 Located in the southwestern part of the country, the Valais is home to some of the most dramatic scenery in Switzerland. The high peaks of the Pennine Alps clad in sparkling glaciers tower above emerald green meadows, sprinkled with charming alpine village and, in some areas, world class resorts such as Zermatt and Saas Fee. Fifty peaks, including the Matterhorn, Monte Rosa and the Dom, soar over 4,000-meter, more than any other region in the Alps. An intricate network of hiking trails, the most famous being the Hikers Haute Route, interlace the region creating endless opportunities for hikers to explore the high peaks, cross panoramic passes and travel through scenic alpine valleys.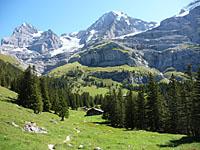 The Berner Oberland in western Switzerland is best known for the Bernese Alps. While not as high as the peaks in the Valais, this spectacular range is famous for a trio of massifs – the Eiger, Monch and the Jungfrau, along with splendid scenery and excellent hiking trails. The most spectacular portion of the Alpine Pass Route, a long distance hiking trail, passes through the heart of the Bernese Alps from Meiringen to Kandersteg. Each day the route travels through breathtaking scenery, crosses panoramic high passes and wanders through lush meadows sprinkled with wildflowers. Along the way hikers are treated to a diversity of Swiss villages from small hamlets, such as of Lauterbrunnen, to the popular ski resort of Grindelwald.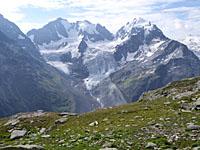 This area including the Engadine and Davos, offers a multitude of great hiking trails from easy walks along beautiful lakes to moderate jaunts between the rustic villages. Strenuous hikes climb over scenic passes with stunning views of glacier-clad peaks and travel up tranquil valleys amid rugged peaks. Home to the country's only national park near Scuol along with the jet-set ski-resorts of St. Moritz and Davos, this area offers a little something for everyone.