Kandersteg (Sunnbuel) to Adelboden
Distance: 7.3 miles (one way)
Bernese Oberland, near Kandersteg in Bernese Oberland
This challenging trail features panoramic views of the high peaks towering above the Spittlematte, Uschenen and Engstligenalp Valleys. The path is best suited for sure footed hikers who like demanding trails that cross exposed passes, travel along airy ridges and include steep ascents and descents.
Read Full Description
Distance: 3.7 miles (one way) to Schwarzgratli Pass
7.3 miles (one way) to Engstligenalp

Elevation: 6,352-ft. at Trailhead
7,812-ft. at Schwarzgratli Pass
8,723-ft. at Engstligenalp

Elevation Gain: 1,460-ft. to Schwarzgratli Pass
2,959-ft. to Engstligenalp

Difficulty: strenuous
More Hikes in:
Kandersteg / Bernese Oberland
Why Hike Kandersteg (Sunnbuel) to Adelboden
At the head of the Kandertal Valley to the south of Kandersteg lie two secluded, hanging valleys; Spittelmatte and Ushenen, separated by the Uschenengrat ridge. While trails climb steeply to both valleys the easiest way to visit Spittelmatte is via the Sunnbuel cable car.
Start the trip by riding the Sunnbuel cable car to Spittelmatte, a pretty little valley rimmed by Altels and the Rinderhorn to the east and the Uschenengrat ridge to the west. After ascending a broad track up the valley to the Hotel Schwarenbach, we turn west on a trail climbing steeply to the top Schwarzgratli Pass atop the Uschenengrat ridge. Along the way enjoy fine views of the high peaks rimming the Spittelmatte glen. As you crest the ridge terrific vistas open to the summits towering above the Uschenen Valley
A steep, exposed scree-covered trail descends from the pass into the Uschenen Valley and then ascends an equally steep trail to the top of the Engstligengrat, the ridge separating the Uschenen and Engstligenalp valleys. Atop the Engstligengrat we are treated to views of the Engstligenalp, a pretty meadow-clad bowl ringed by high peaks.
The path now wanders north and then west along the high, airy ridge with glorious 360-degree views. Ahead the Tschingellochtighorn summit block rises along ridge. Pass to the south of the summit block and then descend on very steep scree-covered slopes leading to the Artelengrat ridge and Engstligenalp. At Engstligenalp a cable car whisks you down to Unter dem Birg and a bus to Adelboden or Kandersteg.
This trail offers an alternative, more demanding crossing to Adelboden with much better views than the traditional Alpine Pass Route from Kandersteg to Adelboden. After leaving the Spittelmatte Valley, you will also be well off the beaten path and find opportunities for short detours and exploration.
If you are uncomfortable with the descent from Schwarzgratli Pass, turn around and follow a trail north along the Uschenengrat ridge to a junction below the Gallihorn. From the junction descend to either Sunnbuel or the Uschenen Valley and walk back to Kandersteg. It is also possible to walk back to Kandersteg by taking trails splitting off the Engstligengrat and Artelengrat ridges near the Tschingellochtighorn summit block.
Pick a day full of promise before setting out on this hike. The high ridges and exposed scree slopes are not places to be during thunderstorms, fog or slippery conditions. This trip is only recommended for experience, sure-footed hikers who delight in a challenge day that yields great and ever changing views.
Elevation Profile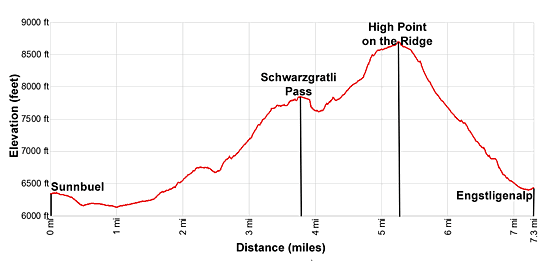 Trail Resources
Trail Photo Gallery / Trail Map
Basecamp(s) Information:
Kandersteg
Region Information:
Bernese Oberland
Other Hiking Regions in:
Switzerland